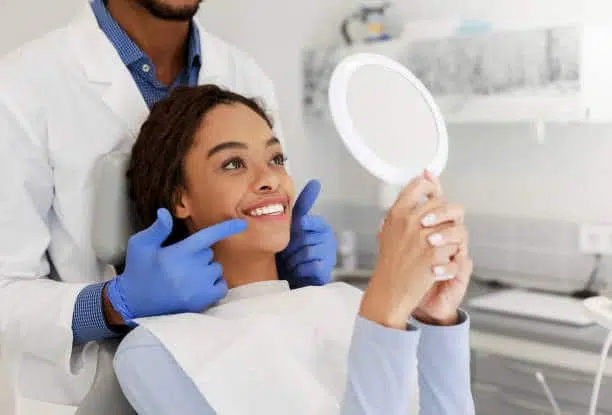 How to Prepare for Your Orthodontic Consultation
Preparing to start orthodontic treatment can bring up several questions. This is especially true if you have not had previous experience in your family. No matter which treatment you are interested in proceeding with, we can help you prepare for your first appointment, and strive to make your experience comfortable and informative.
We want to save you as much time as possible to discuss your treatment goals while in the office. For this reason, we ask you a series of questions regarding your chief concern, goals, and orthodontic history on your first phone call, and we ask that you complete your new patient forms prior to your arrival. The forms are completed digitally and help us to prepare for your consultation.
Information You Can Expect:
At your first visit, we will have a casual conversation that allows you to get familiar with your available treatment options. We will provide information such as:
The condition
Treatment options
Estimated time in treatment
Cost of treatment
Payment options
Frequency of office visits
If you will require other dental services in conjunction with orthodontics
Additional Information
There is additional information that you can provide to help your orthodontist tailor your treatment to your needs. These can include:
Lifestyle (Are you a competitive swimmer, frequent traveler, etc.)
Relocation/School Plans (Are you moving next year?)
Upcoming event (wedding/grad etc.)


Other Questions

You may have other questions that you'd like to ask the orthodontist. Some examples might include food restrictions, what to expect for discomfort, and more. Your orthodontist can provide insight into what will happen during the treatment and how you can ensure it progresses at the right speed. Preparing these questions before the consultation can ease your mind and help you to prepare for what comes next. We have compiled a list of frequently asked questions here. 

It is very helpful for all decision makers to be present for the appointment, so that everyone can learn about the condition and options available, as well as ask any questions they may have. If decision makers are unable to attend the appointment at the office, we encourage the opportunity to call or Facetime during the examination so that information can be relayed to all parties.
Insurance Coverage
Another way that you can prepare for your orthodontic consultation is to familiarize yourself with your insurance coverage, if it applies. This could mean checking your benefits booklet under the orthodontic section, asking your company human resources, or calling your insurance company for a breakdown.
The insurance information you will want to inquire about includes:
Do I have orthodontic coverage?
What percentage of treatment is covered?
What is the lifetime maximum?
Are there age restrictions?
Even though the consultation is complimentary, having your insurance details available can help you make decisions when the payment options are presented to you. You can get an idea of what our interest free payment options look like by checking out our cost calculator here.
With these tips, you can come in prepared to ask questions and allow yourself to get comfortable with the process. Your initial consultation should allow you to gain understanding, relax and trust that you've made the right decision in your orthodontic care.
Book Your Complimentary Consultation
If you would like to set up your new patient consultation and start your smile journey, please get in touch with our amazing team by calling 403-287-0746 or filling out our online form here. We hope to see your smile soon!