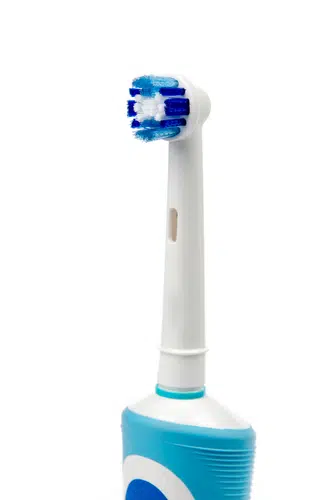 Using an Electric Toothbrush during Orthodontic Treatment
You probably realize by now that Calgary and Airdrie Orthodontist – Dr. Cory Liss – is all about keeping your teeth and gums healthy while you're wearing braces.   Your smile is his passion and keeping it in tip top condition makes this NW Calgary Orthodontist smile.
Some orthodontic patients express frustration when it comes to brushing their teeth – often due to feeling that their toothbrush just isn't getting teeth clean enough.  No one likes the feeling of gunky teeth – which is a common feeling when you have braces on; as they can also become sticky with food debris.  So what's the best way to take care of your teeth and braces – well it might just be the use of an electric toothbrush.  Obviously you're not going to carry your electric toothbrush to school or work – so it's ok to use one of the manual toothbrushes that you will have received from your Orthodontist in Calgary.  But when at home reach for an electric toothbrush to remove all traces of food and drink that you've consumed during the day.
Orthodontists in Calgary and Airdrie stress the importance of seeing your regular dentist for routine cleanings during orthodontic treatment.  Nothing beats the thorough cleaning you receive at your general dentist's office.  Hygienists are trained in removing plague and calculus from tooth surfaces and have the added benefit of having access to tools that easily navigate around orthodontic braces.  Maintaining regular cleanings while wearing braces will go a long way in ensuring you end up with a beautiful smile.
To keep your teeth and braces in optimal condition try using an electric toothbrush.  The proven technology behind today's electric toothbrushes allows patients to do a better job of keeping their teeth clean and free from plague.  Some electric brushes claim to remove up to seven times the amount of plague compared to a manual toothbrush.  Reducing levels of plaque on teeth translates to reducing the risk for developing gingivitis and tooth decay. What's great about using an electric toothbrush is that you can purchase heads that are designed specifically to assist with brushing when orthodontic appliances and braces are being worn.
If you are presently wearing orthodontic braces and need more information regarding keeping your teeth and braces healthy – call Cory Liss Orthodontics.  This NW Calgary Orthodontist welcomes new patients to his Airdrie and Calgary offices – no referral required 403.287.0746