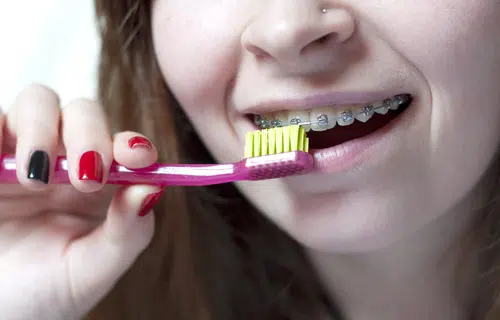 How To Clean Your Orthodontic Retainer?
In our previous blog we highlighted the need to wear your retainer as instructed by your Calgary Orthodontist.  Now you realize the importance of wearing your orthodontic retainer to keep your teeth in place – we've got some tips on how to keep this important appliance squeaky clean.
Just like your teeth need to be cleaned daily – so does your orthodontic retainer.  If it's looking a little worse-for-wear and emitting a stinky odor – you've been neglecting this essential appliance – and the result is a buildup of bacteria that creates a foul smell.  To keep your retainer in tip-top shape, don't forget to show it some love and take the time to clean it so that bacterial colonies are destroyed.
Rinsing your orthodontic retainer and brushing it with toothpaste (if suitable) is an easy way to keep it looking and smelling fresh – but your retainer lives in your mouth, alongside food particles, plaque and bacteria – so don't be surprised that you have to maintain its cleanliness on a daily basis – just like you have to clean your teeth and gums.  Your Calgary Orthodontist may have given you specific instructions when it comes to using certain cleaning products with your retainer.  A good soak in an anti-bacterial denture cleaner can transform an appliance that has picked up stains and other non-desirable residue.  But your orthodontist may have given you a sample of the cleaner he or she wants you to use – so always check-in with your orthodontic team before purchasing random products.
Rule number one is don't soak or clean your retainer in really hot water! Plastic and acrylic warp considerably when immersed in hot water – so if you want your retainer to fit properly – keep it out of hot water.
Rule number two is when your retainer is out of your mouth always keep it in its case in a little water.  Just like plastics tend to warp in hot water – they also have a habit of becoming brittle if they are over dry.  So storing your retainer in water – and a splash of anti-bacterial solution – when you're not wearing it will prolong its life-span.
Remember that this appliance harbors bacteria just like the surface of your teeth – so don't forget to keep it clean as the condition of your retainer can impact the health of your oral tissues.
Still not sure how to clean your retainer? Contact Cory Liss Orthodontics today 403.287.0746