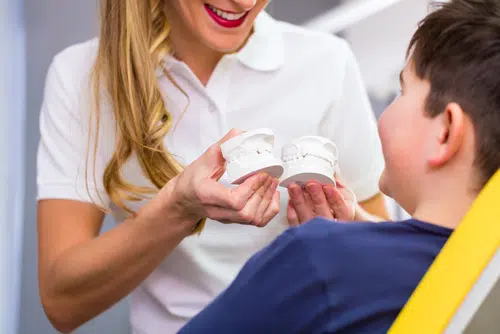 Choosing the Right Orthodontist for You
Dr. Cory Liss is a Calgary Orthodontist who empathizes with patients' dilemma when it comes to choosing an orthodontist.  Acknowledging that Calgarians are fortunate to have many skilled and experienced Orthodontists to choose from across the city – this NW Calgary Orthodontist offers some advice on how to choose the right orthodontist for you or your child.
Why does your General Dentist sometimes provide more than one orthodontic referral?  Your dentist's goal is to help you find a Specialized Orthodontist who not only provides necessary treatment options, but whose practice style enhances the entire orthodontic procedure.  Being able to schedule appointments before school and work, or later in the day, can sometimes make the difference between a patient moving forward with treatment, and who they choose to treat them.  Convenience is a definite plus when it comes to orthodontic care – after all, you may be wearing braces for eighteen months or more – so feeling comfortable with your orthodontic office is important.
But as much as convenience can swing the pendulum in one orthodontist's favor – there's nothing that can compete with quality care and treatment results.  So how can you tell if an orthodontist is right for you?  Word of mouth is probably one of the best referral sources you can find; so talking with other parents and co-workers about their children's orthodontic experiences is a great place to start.  People love to share the good and the bad about dental experiences – and everyone has an opinion regarding good orthodontic care.
Armed with a referral from your general dentist and some feedback from friends and co-workers; seeking an orthodontic consultation is the next step.  During the consultation process you will be able to meet the orthodontist and ask questions regarding treatment goals.  Being able to talk openly with your orthodontist about fears, concerns and aspects of treatment that you may not understand is an essential aspect of building a trusted relationship with your orthodontic team.  Orthodontic treatment spans many months and will have some frustrating moments – so feeling confident about your choice of orthodontist is important.
For more information regarding Orthodontic care in Calgary – or to schedule an appointment with Dr. Cory Liss – call 403.287.0746 today