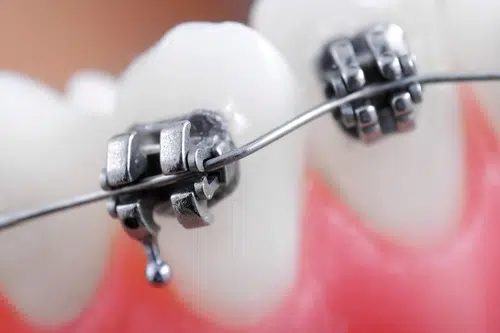 Just Got Braces – Here's Some Tips on What to Eat
Wondering what types of food to eat after you get your orthodontic braces?  Well to make things easier, let's not focus yet on what you can eat, but go over foods you should avoid to prevent damage to orthodontic wires and brackets – and to help your mouth adapt to feeling a little different.
Calgary and Airdrie Orthodontist – Dr. Cory Liss – is passionate about creating a great orthodontic experience for all his patients.  Taking the time to explain treatment objectives and expectations – Dr. Liss and his team at Cory Liss Orthodonticstake the extra step to ensure that patients are aware of how to care for their orthodontic appliance and hardware – and which foods to steer clear of during orthodontic treatment.  For the first few days after braces going on, it's best to stick to soft foods and avoid tough or chewy foods like meat.  You may feel some mild tenderness for a couple of days after your braces have gone on – soft food will prevent oral tissues from becoming further inflamed and won't put unneeded pressure on teeth.
Orthodontists in Calgary try to prepare patients for what to expect during the first few weeks of new orthodontic braces and wires – as it's during this time that the biggest adjustment has to be made to food choices and frequency of brushing and flossing.  Regardless of whether you have some form of orthodontic appliance or not – brushing twice a day and flossing once a day is a must – but sometimes during orthodontic care your teeth need a little extra attention, and you might want to brush after each meal and snack and floss more than once a day.  You'll quickly adjust to what your mouth and teeth need to feel good – but always keep a   toothbrush handy.
After the initial few days of orthodontic wear your teeth will start to feel like normal again and you'll probably be craving some favorite foods.Stay away from anything super sticky, chewy, or hard – orthodontic brackets and wires are strong but are not designed to withstand forces exerted when eating beef jerky or tootsie rolls – so be forewarned – give sticky, chewy, and hard foods a wide berth.  You'll also need to cut some food that you would normally bite right in to – apples can be tricky, so don't feel bad about cutting them in to wedges that are easier to chew and pose less of a threat to new brackets.  Corn on the cob just isn't going to be easy – no matter how dexterous you are – best to save foods like this until your orthodontic braces are removed – then you can enjoy it slathered in butter!
Don't forget to brush and floss regularly as this will help keep your braces clean from food debris and help keep plaque formation to a minimum.  Less plaque on your teeth the less inflamed your gums will be and the more comfortable your mouth will feel. 
For more specific information regarding caring for your orthodontic appliance or braces – contact Cory Liss Orthodontics today – 403.287.0746