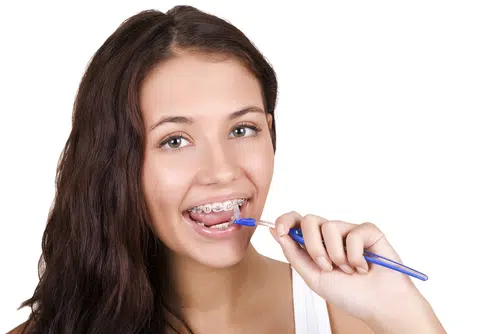 Preventing Decay While Wearing Orthodontic Braces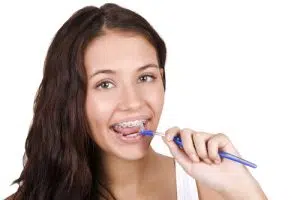 Teeth Straightening in Calgary is an exciting time as dream smiles are created and dental health issues are corrected.  But wearing Orthodontic Braces and Retainers can present new challenges when it comes to oral hygiene.  The benefits of brushing and flossing are numerous – from preventing bad breath, inflamed gums, whitening teeth, and removing bacteria that can contribute to other health concerns like diabetes, heart disease, and respiratory concerns – spending a few minutes twice a day cleaning your pearly whites can make all the difference between straight teeth that are healthy – and straight teeth that are full of dental decay.
Wearing Orthodontic Braces can increase a person's risk for developing decay – as negotiating around wires and brackets is tricky in the early days of treatment – but gets easier when brushing and flossing occurs more than once a day.  Keeping orthodontic braces clean doesn't just keep your breath smelling sweet but food particles that easily collect around brackets and wires are removed and associated plaque formation is kept to a minimum.  Two main factors contribute to tooth decay – unremoved bacteria (plaque) and a diet that is high in sugar and simple carbohydrates.  The combination of sticky plaque and a high starch diet spells trouble for patients who are not diligent about brushing and flossing – increasing the risk for cavities to form around orthodontic brackets.  But with effective home care that consists of brushing and flossing several times a day and maintaining regular visits to a Calgary Dentist for professional cleanings – the risk of forming dental decay is greatly reduced.
Wearing Orthodontic Braces doesn't have to mean a mouth full of cavities.  Asking your Calgary Orthodontist for tips on brushing and flossing and using the nifty gadgets you're given will greatly assist you in keeping your braces and appliances free from plaque and food remnants.  Also paying attention to your sugar in-take will go a long way in reducing your risk for developing dental decay – reducing your consumption of sugary drinks is one of the best things you can do to keep your teeth and braces free from sugar.
Dental Decay doesn't have to ruin your new smile – just take a few minutes each day to brush and floss effectively and your teeth will not only be straight but cavity free.  For more tips on keeping orthodontic braces clean contact Cory Liss Orthodontics today 403.287.0746