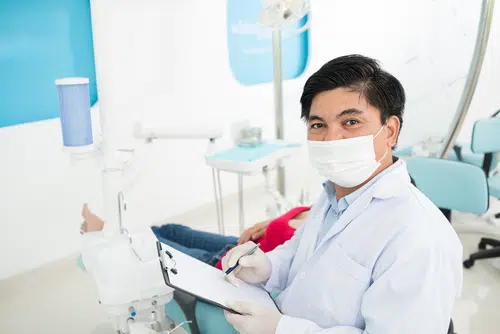 Why Do Orthodontists Need To Take Records?
Your General Dentist may refer you to an Orthodontist or you can contact the Orthodontic Office directly to schedule a consultation appointment to discuss orthodontic treatment options.  Now, when you look in the mirror you may think that your bite challenges are super obvious – thanks to inheriting some crooked teeth from your parents or a tendency for 'buck teeth' that makes you look the spitting image of some distant relative.  The reality is that misaligned teeth or gappy smiles are signs that you have a funky bite – but the cause behind your ill-fitting arches isn't always apparent just by looking at your face and mouth – so records are required to make a full diagnosis of the underlying cause.
NW Calgary Orthodontist – Dr. Cory Liss – is a firm believer in ensuring that each patient receive a customized level of care that focuses on correcting bite issues that are unique to them.  Knowing the skeletal, muscular and dental deficiencies and issues that have contributed to a person's bad bite is the starting point for making an accurate diagnosis and compiling a complete and thorough treatment plan.  Gathering records is an important part of the initial consultation as it enables your orthodontist to view present and predicted jaw growth, discuss identified concerns and present options accordingly.
Orthodontic Records consist of a collection of photographs, x-rays and models that are each used to confirm the specific orthodontic needs of each patient.  Dr. Cory Liss explains that utilizing advance technology like i-Cat® means that any guess-work is eliminated and replaced by precise and accurate data.  i-Cat® Cone Beam 3D Imaging enables orthodontists to view the intricacies of a person's dental health – as it captures 3D images that reveal the health of teeth, roots, jaw joints, sinuses, airways and skeletal balance of the entire skull – in less than 10 seconds.  This information can be especially helpful in diagnosing un-erupted teeth, congenitally missing teeth and skeletal disparities that may require surgical intervention.
Orthodontic Records allows an orthodontist to see what isn't revealed to the naked eye – and this information can make all the difference in successfully diagnosing and treating an orthodontic patient.
For more information regarding an Orthodontic Consultation and Records – contact Cory Liss Orthodontics today 403.287.0746 – no referral required.