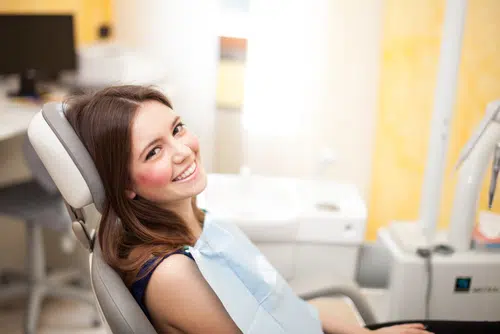 Why is Orthodontic Treatment in Calgary so Common
Seeking orthodontic care is a common desire the world over.  In fact; according to the American Assn. of Orthodontics, between 1982 and 2008 the number of people getting orthodontic braces in America rose by a whopping 99% – and between 1989 and 2008 adult orthodontic treatment rose by 24%.  So if you're nervous about getting orthodontic treatment in Calgary – don't be – you're not alone and you may even be considered 'part of the norm' and making a great decision to take care of your dental health.
But some people aren't completely convinced that orthodontic care isn't being done 'just because' and are wondering if orthodontic braces are being worn just to be cool.  Well there are exceptions to every rule, but let's debunk some of the myths surrounding why people chose to wear braces to straighten their teeth.  If you ask most teenagers who are wearing some form of orthodontic appliance if they think their appliance(s) is cool, you'll probably hear a resounding 'NO'.  It's no secret that when orthodontic braces are initially placed, and when wires are changed, some sensitivity can occur – nothing serious but discomfort nonetheless – so Calgary Orthodontists don't get a stampede of teenagers begging them for braces and other teeth straightening appliances, more subtle interest in improving crooked teeth and making smiles perfect.
Orthodontic treatment in Calgary isn't free – it won't break the bank, but payment is required.  Parents don't agree to commit to 18 to 24 months of orthodontic appointments just so their teen is 'cool' – it just doesn't work that way.  More people are seeking orthodontic treatment today due to the huge advancements in technology and results.  Gone are the days of 'metal mouth', 'train-tracks' and embarrassing head-gear – orthodontic treatment has made amazing advancements in the past decade with the introduction of Invisalign's Clear Retainers, Damon Brackets with the unique sliding door and self-ligating wires, and InSignia's custom orthodontic wires and bracket placement.  Today's sophisticated orthodontic systems, along with orthodontists who focus on reducing treatment time and discomfort allows even the most reluctant of patient to get excited about wearing orthodontic braces and creating a beautiful healthy smile.  Parents today have a greater understanding of the negative impact a 'bad bite' can have on their child's overall dental health.  Maybe the parent lives with TMJ discomfort due to not receiving orthodontic care as a child – and now they want to do the right thing by making sure their family has a healthy bite by going forward with orthodontic treatment.  And adults are turning to orthodontic solutions to help address TMJ concerns, along with esthetic issues that may have bugged them for years.
There are many reasons for seeking orthodontic treatment in Calgary – the number one reason is to improve a deficient dental system and restore health and function.  Turning to NW Calgary Orthodontist – Dr. Cory Liss – for a consultation will help establish the goals for orthodontic treatment.  Call this Calgary Orthodontist today – no referral required 403.287.0746