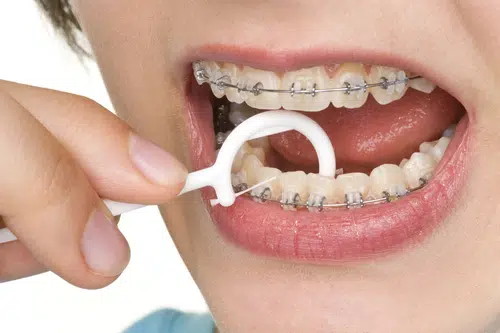 National Orthodontic Health Month
It's October; the month that brings us Ghosts, Goblins, Trick or Treaters, and a focus on Orthodontic Health – as October is National Orthodontic Health Month – which means tips on keeping your mouth and braces clean.  Calgary and Airdrie Orthodontist – Dr. Cory Liss – loves this time of year as it provides a great opportunity to share important information regarding orthodontic treatment and how taking care of your orthodontic braces ensures not only a healthy smile – but healthy teeth.
Making sure your orthodontic braces and appliances stay clean not only impacts your oral health but also contributes to the movement of teeth during orthodontic treatment.  Teeth that are literally bogged down with remnants of food and plaque aren't able to adequately move in to the desired position in the mouth.  Along with the increased difficulty of tooth movement puffy, bleeding gums – which are a sure sign that adequate brushing and flossing is being neglected – is also seen (oops you're busted!!).  The reality of effective orthodontic treatment is that clean teeth play a significant role – as clean teeth respond to the gentle force from orthodontic wires as anticipated – whereas teeth and braces that are covered in sticky residues and plaque cause increased inflammation in the mouth – making it harder for teeth to move.
Orthodontists in Airdrie and Calgary want you to have an easy and rewarding orthodontic experience.  That means they need your help in keeping your teeth, braces, and orthodontic appliances squeaky clean during treatment.  Food choices play a part in how sticky your teeth and braces become – and though October is the month we associate with candy treats – try to make smart choices when it comes to choosing 'sweet treats'.  To help minimize sugary residue on teeth and the increased risk of a broken bracket – stay away from:
Caramels and Chewy Candy
Popcorn
Taffy
Liquorice
Bubble Gum – or anything Gummy
Jelly Beans
Candy Canes and Suckers
And also stay away from Beef Jerky and other leathery food treats – as the chance of pulling a wire or bracket increases with this type of food.
Dr. Cory Liss and his team at Cory Liss Orthodontics wants you to have a great National Orthodontic Health Month – that means brushing and flossing several times a day, avoiding foods that can cause tooth decay or damage orthodontic braces.  But having fun is an important part of life, so go ahead and have some healthy snacks (avoid sugary drinks) like chopped up fruit, peanut butter smoothies, and pumpkin muffins. We want you to smile – so make sure you're having some yummy, healthy, snacks.
Cory Liss Orthodontics welcomes new patients to their Calgary and Airdrie offices – call today for a consultation – no referral required 403.287.0746