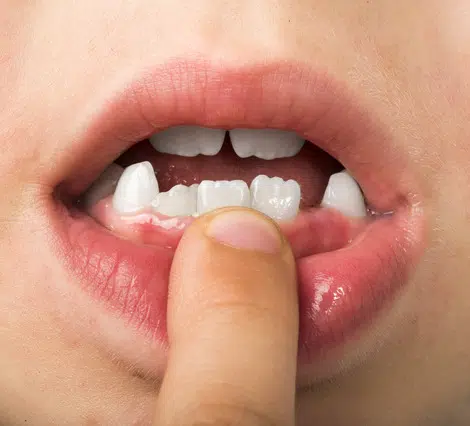 Missing Teeth – How Your Calgary Orthodontist Can Help
Hypodontia is the clinical term for congenitally missing teeth – teeth that have failed to develop in utero due to a lack of essential tooth tissue called dental lamina. The absence of this essential tissue translates to an inability for a tooth or teeth to cultivate.
Calgary Orthodontists are familiar with the diagnosis and treatment of congenitally missing teeth – and orthodontic treatment in Calgary often becomes an essential step in the process of correcting the gap a missing tooth creates.  Diagnosed by the use of dental x-rays, missing teeth are not the end of the world, and available treatment options can be discussed during a consultation with a Calgary Orthodontist.
Orthodontists in Calgary Protect Developing Smiles
Congenitally missing refers to the condition where a tooth, or teeth, never formed.  Often a condition that is found in families – if you have congenitally missing teeth, chances are your child/children will too – this complaint is found in approximately 6% of orthodontic cases.
The upper lateral incisors are the most commonly missing teeth along with the lower second pre-molars.  Existing even in a patient who presents with crowding and crooked teeth – this sometimes emotional issue can be easily corrected to give a patient a great cosmetic result and a healthy bite.
Seeing a Calgary Orthodontist
Calgary Orthodontists are trained to diagnose and treat conditions that affect a patient's bite.  With early detection of missing teeth; your Calgary and Airdrie Orthodontist can immediately develop a treatment plan that is designed to either open space or close space – depending on the patient. Due to the high success of dental implants; opening space is often the desired treatment goal, as this will provide a permanent solution to the absent natural tooth.   An orthodontist will make sure that the surrounding permanent teeth erupt in the desired place – at the correct time – so ensuring that any future dental treatment has every chance of success and that treatment options are not reduced.
A Calgary Orthodontist may have to make the decision to extract a baby tooth (primary tooth) that is in the place of the missing adult tooth.  Because there is no permanent tooth, a baby tooth has never received the signal to fall-out – or naturally exfoliate.  A retained primary tooth can cause periodontal concerns in an adult mouth and be prone to decay due to softer enamel and over exposure to acidic foods.  A healthy retained baby tooth – that has adequate form and root structure – can provide adequate function in an adult, but extra attention must be given to brushing and flossing due to the increase risk of gum issues.   If your Calgary Orthodontist feels that extraction of the retained primary tooth is the best course of treatment the resulting space will be maintained with an orthodontic appliance.  The 'holding' of adequate space allows for further dental treatment, such as a bridge or implant.
NW Calgary Orthodontist – Dr. Cory Liss – is experienced in the treatment of congenitally missing teeth and encourages patients to set-up an orthodontic consultation to go over treatment options.  With offices in both Calgary and Airdrie, this orthodontic team is able to meet the orthodontic needs of patients, whether pre-teen, teen, or adult.  Using orthodontic systems like Invisalign, Damon Brackets, and InSignia – Dr. Cory Liss is equipped to deal with all degrees of 'funky smiles' and looks forward to seeing yours soon.