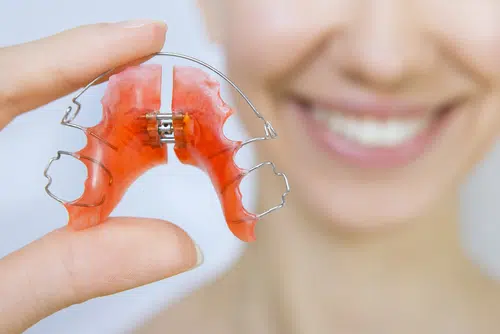 How Long Should I Wear My Orthodontic Retainer?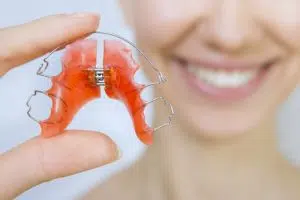 NW Calgary Orthodontist – Dr. Cory Liss – understands the excitement patients experience when the day arrives for Orthodontic Braces to be removed.  This is an exciting time for everyone – as often the patient has been in orthodontic treatment for a couple of years – and is eager to be rid of brackets, wires, and elastics.  However, removing orthodontic braces doesn't mean that treatment has finished; there is still a final stage of treatment that needs to be completed – and that involves wearing a Retainer.
Why is Wearing a Retainer Important?  The process of orthodontics involves moving teeth from unhealthy positions in the mouth, to a place that creates an optimum bite.  This process doesn't happen over-night; and can often involve a patient wearing a pre-treatment appliance, braces, and then a final retainer.  When teeth are moved, the body has to work hard to rebuild bone around the roots of teeth so they are stable in their new position.  The rebuilding of oral tissues takes time – wearing a retainer once braces are removed helps ensure teeth stay in their new desired position – and prevents them from drifting back to where they used to be.  An Orthodontic Retainer has the important job of reminding teeth of where they are meant to be – and allows oral tissues to regenerate while teeth are kept firmly in place.
How Long Should You Wear Your Orthodontic Retainer? Keep wearing your retainer until your Calgary Orthodontist tells you to stop!  Consistent wearing of your retainer is crucial to overall treatment success – it's not an optional phase of treatment – but does in fact have a huge impact on your new smile's long-term health.  Though patients may not want to hear this – it's not uncommon for a retainer to be worn full-time for a couple of years and then nightly for the rest of a patient's life.  Part of the natural aging process is for teeth to shift, so holding them in a healthy bite position is important.  A retainer isn't used to move teeth – it simply maintains a healthy bite that you and your orthodontist worked hard to achieve.
Talk to your Calgary Orthodontist about the importance of wearing a retainer – your smile will thank you for it.
For more information regarding orthodontic treatment in Calgary – contact Cory Liss Orthodontics today 403.287.0746