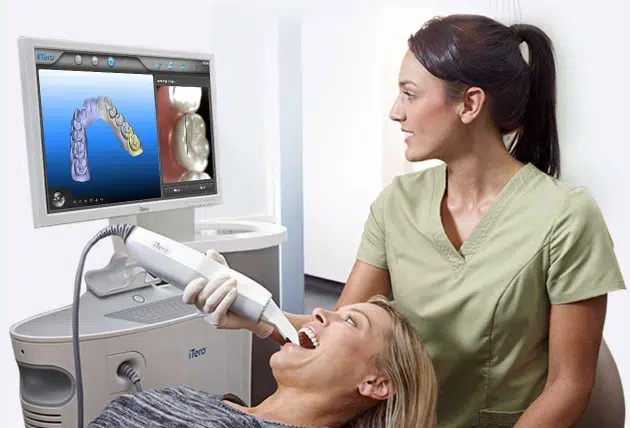 iTero Digital Scanner – Making Patient Comfort a Priority
Calgary Orthodontists have access to some of the most advanced technology available today – technology that was developed to not only make Orthodontists jobs easier, but to improve patient comfort and overall experience.  At Cory Liss Orthodontics in NW Calgary and Airdrie – using up to date technology has always been a priority; and with the unveiling of the new iTero Digital Scanner – there has never been a better time to seek an orthodontic consultation and treatment.
A significant portion of an orthodontic consultation involves gathering of diagnostic records – x-rays, intra-oral photos, and impressions of teeth.  Traditionally impressions have been gathered with the use of trays and goopy impression material that the patient bites in to and keeps in the mouth for a minute or so for the impression to take.  As in other areas of dentistry, the use of digital technology in orthodontics is replacing the need to take a physical impression – as a digital representation is faster, more accurate, and completely eliminates the need for impression material.
The technological prowess of the iTero Digital Scanner enables your Orthodontist in Calgary to gather an impression of your teeth – just with the wave of a wand.  Developed by Align Technology – the makers of Invisalign and Invisalign Teen – consideration for patients comfort and time has been given top priority, resulting in technology that provides greater accuracy, flexibility, and creativity of results.  What does this mean to an orthodontic patient? The accuracy of iTero's Digital impression prevents the need for repeat appointments to retake impressions – and the increased accuracy of the captured digital impression results in fewer adjustments to appliances being needed – that means less time spent at your Calgary Orthodontist.
The really neat feature of Align's Technology's latest development is that it works in sync with Invisalign and Invisalign Teen teeth straightening systems.  Using iTero's scanning capabilities; orthodontists are able to better predict treatment timing and response to aligner wear.  Due to the reduction in adjustments – treatment is more efficient and effective – with up to 7 times less fit issues (as per Align Technology).
Orthodontic treatment in Calgary has always given patients something to smile about – but now it just got even better – for more information regarding the advantages of iTero Digital Scanning or to schedule an orthodontic consultation – contact Cory Liss Orthodontics today 403.287.0746