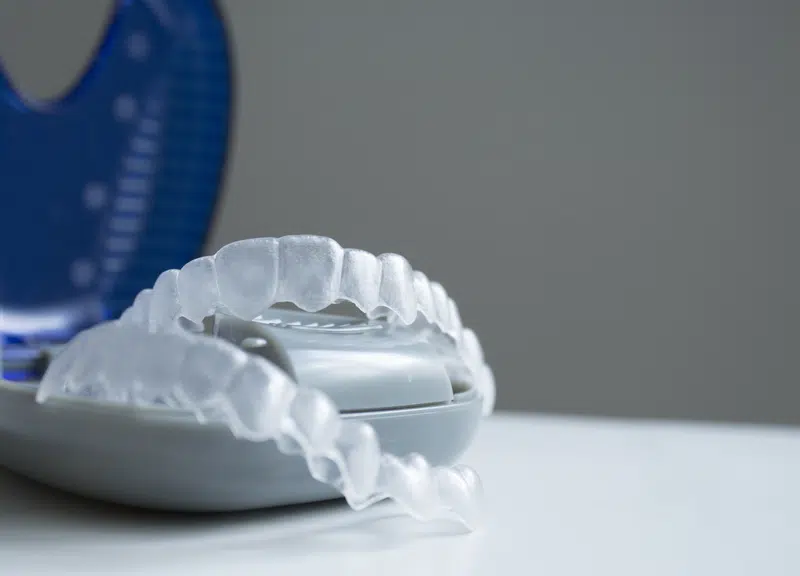 Getting Used to Invisalign
Invisalign is a state of the art treatment which has given thousands of patients the opportunity to achieve a beautiful smile. Compared to traditional braces, this discreet and speedy process is very attractive for those who need to straighten their teeth without attracting the wrong attention. But as magical as Invisalign may seem, it is important to remember that there will be an adjustment period, as with any orthodontic treatment. We've put together a few pointers that will help you develop positive oral habits and get you through those first few weeks.
Keep At It
If you are wondering if Invisalign will feel uncomfortable for you at first, the answer is most likely yes. Anything foreign in your mouth will feel strange in the beginning. Think about that time you got your ears pierced or dyed your hair for the first time. It probably took you awhile to get used to the change, but now you couldn't imagine it any other way! The key for Invisalign comfort is to wear your aligners for at least 22 hours a day, every day. The only time those trays should be coming out is when you are eating or drinking anything other than cool water. Most patients find that it takes as little as one to two weeks for the discomfort to disappear.
Be Prepared
At the risk of sounding like a Disney villain, being prepared is one of the most important steps to the Invisalign process. Instead of brushing and flossing twice a day, you will need to clean your teeth after every meal. This prevents staining and bacteria build-up in between your teeth and the trays. Because you'll need to up your oral hygiene game, make sure to strategize. Putting together a kit is a great way to do this. All you need is floss, toothpaste, a toothbrush, and your Invisalign container. For maximum efficiency, pick up the mini-travel sizes. In the first few weeks, work on developing stellar oral care habits. Once those are established, the rest of your treatment will be a breeze!
Take Care
Your aligners are high-tech pieces of equipment, and should be treated that way. Care for your aligners like a Formula 1 driver cares for their car. They won't be cruising around in a beater, because a beater won't win the race. The same goes for your Invisalign treatment. The more you take care of your equipment, the better it will work for you and the more likely you are to wear it. Protect your trays from any instance where they could be scratched or stained. That means putting them out of reach of your enthusiastic toddler and cleaning them as directed.
Follow these simple tips to help your Invisalign adjustment period go as smoothly as possible. As always, our staff is dedicated to making sure that you are getting the most out of your treatment. We are here to guide you on your way to your best smile!