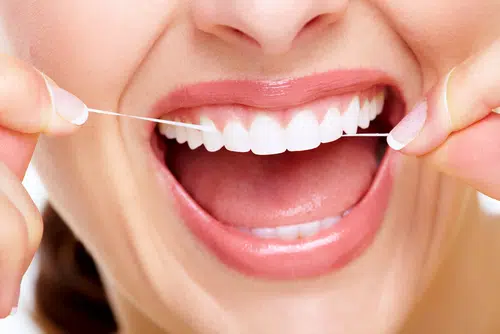 Flossing – Why it's Important during Orthodontic Treatment
Orthodontic treatment in Calgary is an exciting time – after all you're straightening your teeth and improving your entire dental health as a result.  And though you may experience times during orthodontic treatment when just brushing your teeth seems all you have the energy for – flossing your teeth will ultimately determine whether you end up with a healthy smile – or puffy gums and decayed teeth – not such a great look.
Airdrie and Calgary Orthodontists work hard to make sure that the smile that you complete treatment with is better than the smile you started with.  Educating orthodontic patients on how to care for braces, why an electric toothbrush might make your smile brighter, and why flossing is critical during orthodontic treatment – gives patients every chance to finish treatment with not just straight teeth, but healthy teeth and gums.  But like many successes – patient compliance is the key factor to ensuring orthodontic braces are working optimally and treatment goals are being met. 
Even your General Dentist in Calgary stresses the importance of regular flossing – food has an annoying habit of getting stuck in between teeth – now add braces to the equation and you've got loads of surface areas for your favourite Subway sandwich to get stuck on.  Wearing orthodontic braces provides more opportunities for food to hideout and cause havoc on tooth surfaces and gums – not to mention contributing to bad breath.  Regular brushing isn't able to remove food debris from every tooth surface – plus braces can make it challenging to reach every part of the mouth with a toothbrush.  This is why flossing becomes the important step in your daily oral hygiene routine.  Flossing not only removes food stuck between teeth it also removes particles between orthodontic brackets.
Wearing orthodontic braces is a great thing to do for your dental health – and your smile.  So don't neglect your teeth and braces during treatment as it will hamper the overall success.  And if you're looking for a little motivation to break out the dental floss – it may actually be saving your life.  Yep, studies now show that lack of flossing and increase presence of bacteria in the mouth can lead to inflammation throughout the entire body.  Over time, inflammation can contribute to heart disease and other health issues.
Calgary Orthodontist – Dr. Cory Liss loves to floss and wants you to make it part of your daily routine.  For more information on keeping your braces and teeth clean – call Cory Liss Orthodontics today 403.287.0746
Wondering just how important floss is – check out this cool link