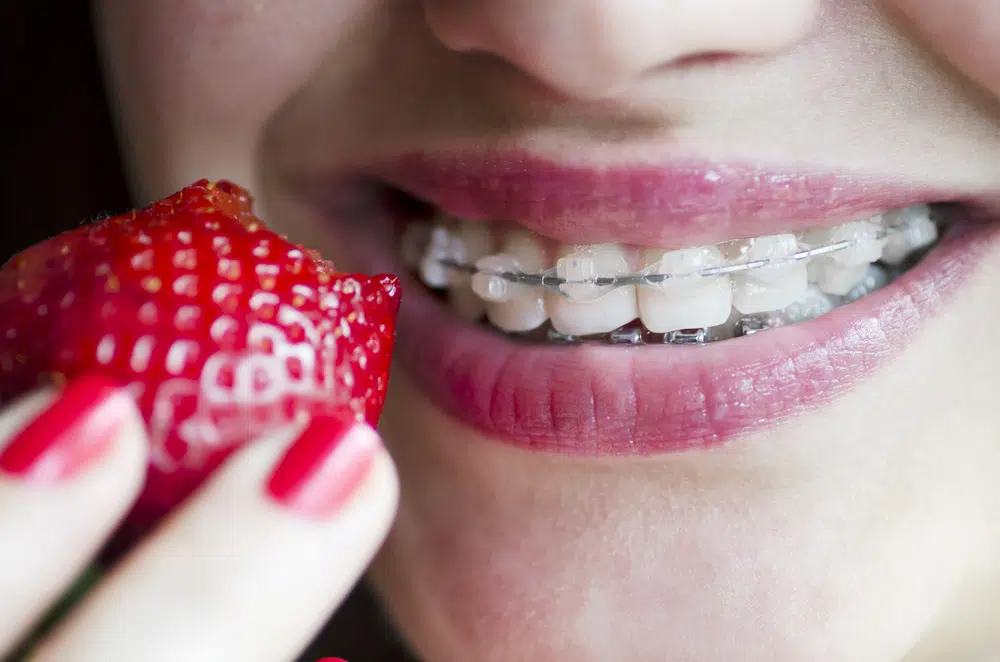 Eating With Orthodontic Braces
NW Calgary Orthodontists love creating beautiful smiles with the help of orthodontic braces.  From metal brackets, clear brackets, just on the top, or just on the bottom teeth – orthodontists love orthodontic braces – especially the first day they go on when they're shiny new.  Now you might be thinking – that's not how I felt – and maybe your thoughts were more about 'how do I eat with these new braces' and 'how will I ever keep them clean'.  Well, those thoughts are pretty normal, especially when braces first go on or wires are changed for the first time – everyone is thinking 'what can I eat?'
Cory Liss Orthodontists in NW Calgary makes sure patients are prepared for the few little annoyances that occur with food choices.  Let's be real – you now have orthodontic brackets cemented to each tooth and a wire running through each bracket – of course there are going to be some food groups that you'll have to avoid – but the good news is that there are heaps of things you can eat so don't get too frustrated as you'll quickly adjust to minor adaptions to your diet.
The key to enjoying food during orthodontic treatment is to except that some things are off limits – that means no sticky candy like toffee, nothing really hard like peanut brittle, and nothing super sugary that will leave lots of sugar bugs hiding around orthodontic brackets!  So now that we've made it clear that you're going to have to wait to enjoy certain foods, let's focus on all the great stuff you can enjoy during orthodontic treatment.
Smoothies – these may well become your best friend – they're fast to make, easy to drink, packed with nutrition to keep you satisfied and can be turned in to a fun treat with a few scoops of your favorite ice-cream.
Eggs – whether it's easy-over, scrambled or poached – eggs are packed with goodness and are easy to eat with braces. Add some sautéed vegetables and you've got a fun nutritious meal.
After the first few days of wearing braces your teeth will start to feel like normal and you'll be ready to eat more regular food.  Remember to stay away from the high sugar, super sticky and super hard stuff – you don't want to break a bracket off or loosen a wire.
For more great food ideas and to learn just how fun orthodontic braces can be – contact Cory Liss Orthodontics today – located in Airdrie and NW Calgary – 403.287.0746