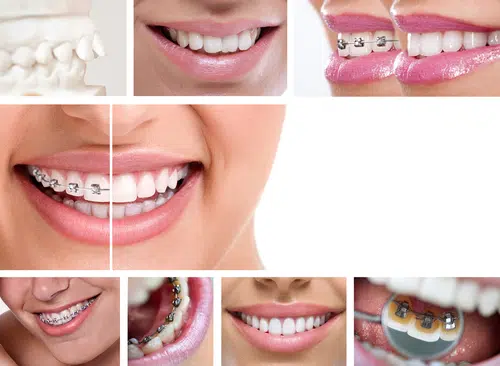 Don't Let the Thought of Wearing Braces Stop You from Straightening Your Teeth
If you've ever considered straightening your teeth but have changed your mind due to the thought of having to wear orthodontic braces – here's some information that might help you reconsider orthodontic treatment.
Invisalign Clear Aligners have definitely reshaped the public's expectations of orthodontic treatment.  It's not uncommon for teens and adult patients to decide against treatment if they are not a suitable candidate for Invisalign.  Why is this?  People are under the impression that Invisalign may be the only option for them to straighten their teeth without having to wear metal brackets that draw attention to their mouth and smile.  Admittedly Invisalign's technology does provide an esthetically appealing option – but it is not the only teeth straightening system that acknowledges the demand for incognito appliances and brackets – as other orthodontic manufacturers have also risen to the challenge of creating a system that effectively straightens teeth and corrects bite issues without the 'heavy metal' influence.
Orthodontic brackets like Damon®Clear offer patients a solution for straightening even the most crooked of teeth with minimally visible brackets.  Suitable for adult and teen patients – this clear bracketing system from the Ormco stable is resistant to staining and discoloration and is designed to move teeth in an efficient manner without drawing attention to the fact that braces are being worn.  Used in conjunction with Insignia Advanced Smile Design™ – an interactive software that custom designs precision bracket placement and enables your orthodontist to map out your treatment plan in advance – Damon®Clear can change the way patients view orthodontic treatment, even if they're not wearing Invisalign Aligners.
Not getting hung-up on the type of teeth straightening system is a crucial element in being able to be excited at the thought of attaining your ideal smile.  Remember that no two smiles are alike – so though your co-worker is a suitable candidate for Invisalign – it doesn't mean that you will be, but it also doesn't mean that you can't wear an alternate clear system that will do just as good of a job of straightening your teeth.
Cory Liss is a Calgary Orthodontist who encourages patients to ask about all orthodontic treatment options – and available systems that are right for their bite.  For more information on straightening your teeth – contact this NW Calgary Orthodontist today 403.287.0746