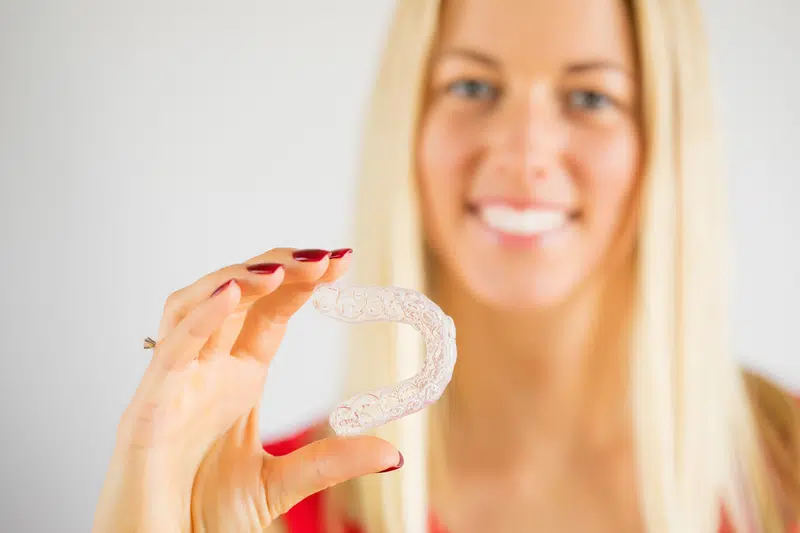 Why Do I Need Attachments on My Teeth During Invisalign?
Our patient's love that Invisalign treatment is a near-invisible way to achieve their perfect smile. That's why some are surprised to find out that they require attachments during the process. Attachments, sometimes called "buttons," are small tooth-coloured dots that are placed along specific teeth. Sometimes your orthodontist will be able to place these on the back of your teeth, but in most cases they will need to be on the front. So what exactly are these buttons for and why do some patients need them?
Anchors for Your Aligners
Unlike braces, Invisalign doesn't use brackets to manipulate your teeth into moving. For those with minor malocclusions, they probably don't need them anyways as the aligners themselves are enough to shift their teeth into position. Patients who require more tooth movement, however, need more grip. That's where buttons come into play. They click into the aligner trays to create a more secure hold, encouraging tooth movements that would be otherwise impossible with Invisalign.
Practically Invisible
The biggest concern we receive around buttons is the fear that they will be obvious to onlookers. Luckily, Invisalign has designed their attachments to be as small and discreet as physically possible without sacrificing function. Furthermore, expert orthodontists like Dr. Cory Liss can colour-match them to your teeth! That way your aligners will remain nearly invisible throughout your treatment. Even if you have buttons on your front teeth, they will still be more discreet than conventional braces or even clear ones!
Easy to Remove
Once you reach the end of your aligner tray regimen, your little buttons will disappear as easily as they were applied. A quick buff will clean them right up, leaving nothing behind but your glowing smile.
Attachments make it possible for people with more severe malocclusions to become suitable candidates for Invisalign. If you've been putting off orthodontic treatment because you didn't think Invisalign would work for you, it's time to think again. Contact the experts at Cory Liss Orthodontics today!