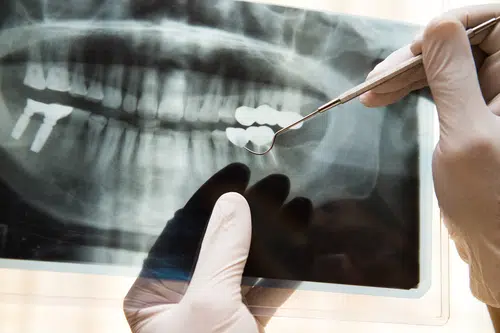 Calgary Orthodontist Explains Tooth Movement
NW Calgary Orthodontist, Dr. Cory Liss, sees adult, teen, and preteen patients for orthodontic treatment in Calgary.  With exposure to mild, moderate, and severe orthodontic cases, Dr. Liss is experienced in diagnosing and treating all levels of orthodontic needs.  For many patients who elect to straighten teeth in Calgary the end result is the only aspect of teeth straightening they focus on – and can you blame them! But tooth movement is a precise, planned, and specialized occurrence – and Dr. Liss explains in more detail what happens to teeth when braces are worn.
Orthodontists are Specialists in the field of teeth straightening.  Having graduated as a General Dentist; an orthodontistthen goes on to receive specialized education and Masters Designation. Years of dental and orthodontic training gives Calgary Orthodontists the skills necessary to accurately diagnose and treat bite issues – which usually consists of 'moving' teeth and/or creating or reducing space with some form of orthodontic appliance.
Teeth that are crooked, crowded, congenitally missing, or out of alignment in any way, benefit from orthodontic treatment.  But sometimes orthodontic concerns are due to skeletal issues, such as a narrow upper arch.  Orthodontic appliances are designed to address all manner of skeletal issues – and if you're wearing an arch expander you'll know the amazing amount of positive changes that occur from its use.  When orthodontic braces are placed they consist of brackets that are cemented to the outer surface of teeth, and arch wires that are threaded through each bracket.  Sometimes there are additional mechanics used – springs and elastics – that contribute to the movement of teeth.
Orthodontic braces work by applying a desired amount of pressure (force), in a certain direction, to selected teeth, over a specified amount of time.  The constant gentle pressure exerted on teeth creates a biological response which leads to bone remodelling.  The remodelling of the bone either holds a tooth or teeth in its new position or allows space for a tooth to move to.  Teeth move approximately 1mm a month – depending on the patient – and the pressure and direction is controlled by changing the arch wires at set appointment intervals.  Orthodontic treatment may last anywhere from approximately 12 to 36 months – again depending on the patient and degree of movement required.  It's important to mention that applying too much force on a tooth, to quicken treatment, is not desirable as it can create too much of an inflammatory response and lead to gum and bone recession and a disappointing treatment result. There's no denying that patience is required for successful treatment outcome – and improvement in technology and treatment planning means that orthodontic treatment in Calgary can be a relatively fast, pain free endeavour.
Calgary and Airdrie Orthodontist – Cory Liss – focuses on providing treatment options that provide exceptional results, in a timely manner.  Using orthodontic systems like Invisalign, InvisalignTeen, Insignia, and Damon Braces – Dr. Liss is able to straightening teeth, and even the most challenging of bites.  If you're considering orthodontic treatment in Calgary or Airdrie contact Cory Liss Orthodontics today – 403.287.0746