Meet Our Calgary Orthodontic Team
Our Calgary Orthodontic team provides patients with several treatment options. Cory Liss Orthodontics provides customer oriented services, solutions for straightening teeth, along with options for braces and orthodontic treatment. Dr. Liss has chosen a qualified team of professionals to help him provide his patients with orthodontic service & care
Each clinical member on the Cory Liss Orthodontics team is a RDA II and has completed specialized training in orthodontics.
Our administrative staff are always eager to answer all your questions, from appointments and insurance claims, to how to find us and where to park.
Lab staff at Cory Liss Orthodontics are a vital part of the team. Having an in house lab team really gives Dr. Liss the control he needs. Lot of appliances are made here, and we have just the lab techs to do the job.
The entire team looks forward to seeing you soon!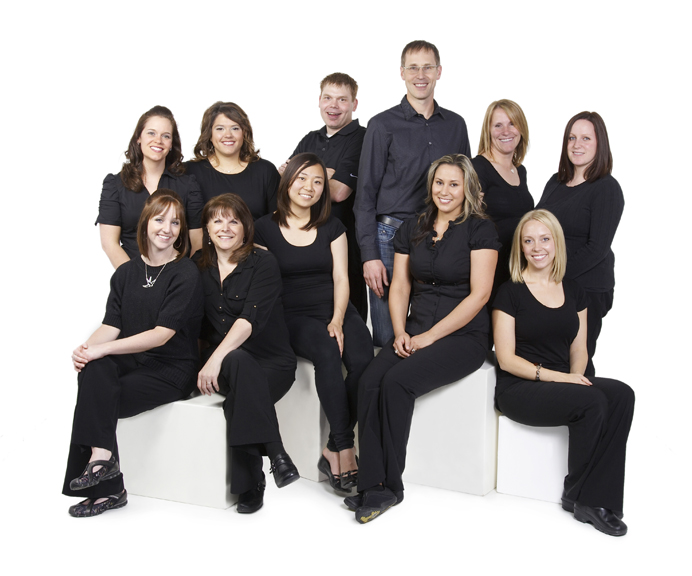 ---
Hi my name is Alison; I have worked at Cory Liss Orthodontics since almost the beginning of time. As a Registered Dental Assistant, you will see me running around in the back, making things happen. I love building lasting relationships with our patients and helping Dr. Liss to create a perfect smile. Outside of the office I love playing hockey, soccer, swimming and riding bike. When I'm not being sporty… you will find me spending time with my family and friends.
Hi my name is Wendy, I'm the Office Manager at Cory Liss Orthodontics
I never grew up dreaming of working in a dental office, years ago I was asked by a family friend to help out in their dental office and my path was set. Helping people to with their dental health was so rewarding that I have been a part over it for over 30 years, 27 of those years as an Office Manager. Thru the years the dental field has offered amazing opportunities to grow and learn with numerous continuing education programs and courses most recently a series of three amazing Disney Institute courses. I was given the chance to join Cory's team in 2007 and be a part of a team that creates truly Confident Smiles!!!! Cory is a talented Orthodontist and he surrounds himself with talented, caring people to help him realize his vision.
Hi! My name is Barb I'm Assistant/ Treatment Coordinator and I have been working with Cory Liss Orthodontics since 2006. I graduated with honors from Okanagan University College in 1994. I enjoy spending time with my husband Joe and my boys Anthony and Marco and my dogs Sammy and Rocky. In my spare time I also work out at the gym, take long walks with my dogs and love watching my son play football.
Hi, I'm Ashley! I'm a Ortho Assistant and I graduated from Red Deer College in 2011 and have been working in Orthodontics ever since. I've been a part of the Cory Liss team since October 2015. I moved to Calgary from Winnipeg in 2013 with my spouse Benjamin. We love heading out to the mountains to go exploring and hiking.
Hi, I'm Dave and I'm fortunate enough to work with the great team at Cory Liss Orthodontics as a lab tech. I have been a Lab tech since 1996 and take great pride in providing our patients with appliances. I am originally from Nova Scotia and now enjoying Alberta, hiking, camping and exploring the sites. As much as I'm enjoying my time here I do look forward to visits from family and friends especially my brothers.
 
How's she going? Just kidding! I'm Megan and don't be surprised if you hear me from time to time in the clinic saying something only us Easterners say. Shortly after moving to Calgary I came to work with Cory and his great team and ever since have enjoyed my days helping to create fantastic smiles.
When I'm not working I love spending time in the kitchen baking, just like my grandma taught me. I also love staying active outdoors, camping, hiking and swimming (preferably in the ocean when I visit my hometown) although you may find it hard to find me….my favorite color is camouflage.
Hey I'm Amie, I've been assisting in Orthodontics since April 2013 and my journey with the Cory Liss Team began in February 2016. To this day, the most rewarding aspect is being able to share and celebrate that moment someone sees their "perfect smile" for the first time. Aside from being a self-proclaimed foodie, I love all things fitness and health. I enjoy a good movie, exploring the world and cuddles with my shepherd Zeus.
Hi! I'm Wendy; I graduated as a Dental Assistant in 2011. I have worked in both general and pediatric dentistry and now thrilled to be in Orthodontics. I knew I wanted to be a part of the Cory Liss Team the minute I walked through the door. So I am very happy to call CLO home.
I was born and raised in Red Deer and moved to Calgary in 2011, I can't imagine a better place to live. I look forward to meeting all the smiles in the back clinic!
 
Hi, my name is Christie and I'm an Assistant's/Treatment Coordinators at Cory Liss Orthodontics. I am a born and raised Calgarian. In 2012 I graduated from SAIT and have been working in the dental field ever since. I am a huge animal lover and have 3 dogs of my own. In my off time I enjoy spending time with my husband, family and friends taking in whatever event the mountains or city has to offer.
Hi I'm Krystal! I'm an Ortho assistant here at CLO. I started my dental career working in general dentistry for 4 years but I always knew orthodontics was my true passion. I am beyond astatic that I was given the opportunity to work with Dr. Liss and his amazing team. In my spare time you will find me with my boyfriend Nick and our new puppy Betty, working out at the gym or spending time with my family.
Hey! My name is Kristina; I recently graduated from Bow Valley College as a Medical Office Assistant. Soon after graduating I was able to start my career in the orthodontic field as a Lab Assistant at Cory Liss Orthodontics. I find it really exciting to be involved with the process of creating Confident Smiles. My boyfriend Sheldon and I live in Cochrane with our Australian Shepherd, Bohdi. In my spare time I love to bake and head to the mountains to hike in the summer and snowboard in the winter.