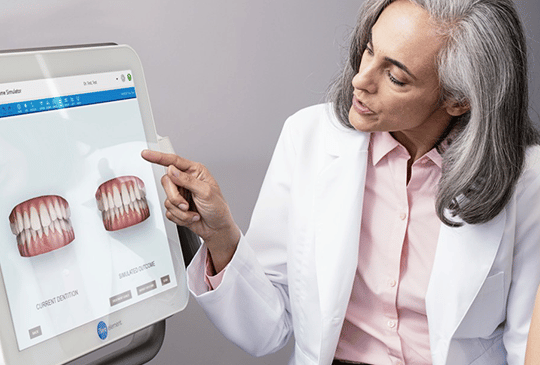 Invisalign is a discrete and effective esthetic alternative to traditional metal braces. Invisalign is a popular brand of clear aligners that are changed on a regular interval in order to slowly move your teeth into their final ideal position. Sounds great right? But how does it work? What makes Invisalign from one provider different from Invisalign with another? Here is a break down of Invisalign as a tool, and why your Orthodontist is the artist.
How Does Invisalign Work?
The first step in Invisalign treatment is having a scan taken of your teeth. This scan is completed with a piece of technology called an iTero scanner, that takes countless photos of your teeth in order to complete a digital replica of your mouth. This scan can be 3D printed and modified in 3D digitally.
Equipped with this scan, it's time for your Orthodontists skills to shine! Your Orthodontist will create a week-by-week plan of how your teeth will move, planning the attachments so that the forces applied to your teeth are prescribed all the way to their final position. This plan also includes details such as the need for interproximal reduction and when it should take place. Interproximal reduction (or IPR) is when your Orthodontist takes a small disc or strip between the contact points of teeth, creating a temporary small space that will be closed with your Invisalign aligners so that teeth fit together harmoniously.
When your Orthodontist has completed each weekly plan for your aligners, the manufacturing step will commence. This means that Invisalign is making each aligner with their specifically engineered SmartTrack material and shipping it to your Orthodontist for delivery.
The next step will be to see you in the office to deliver your Invisalign and get started with wear. Your Orthodontic team will place the clear attachments on your teeth, and direct you through wearing your aligners and caring for them at home. Each week your aligner has specific movements built in, so wearing the aligners as prescribed is essential to move on to the next aligner. You will always know what to expect with our Dental Monitoring program, where you will take a quick scan on your smart phone of your teeth each week, and be directed on any changes to your aligners that need to be made to ensure your success. Learn more about Dental Monitoring here.
As you are progressing week to week through your treatment, you will quickly notice that your teeth are moving and you are one step closer to achieving your desired results. Throughout your treatment, your Orthodontist may request another iTero scan be taken so that more aligners can be made to fine tune your alignment. When you have completed your treatment, the clear attachments will be removed from your teeth and retainers will be delivered. Now it is time for you to truly enjoy your beautiful new smile and confidence!
Having a practitioner who is an expert in Invisalign is essential to ensuring you receive your best smile. Your Orthodontist is involved each and every step of your treatment, so choosing who your artist is so important to your success. If you have questions about Invisalign, check out their FAQ here.
Book Your Complimentary Consultation
Dr. Cory Liss has been transforming smiles with Invisalign for over 20 years. If you are interested in starting your own Invisalign journey, please contact Cory Liss Orthodontics today at 403-287-0746 and one of our amazing team members will be happy to help you. You can also complete a consultation request form online here. We hope to see your smile soon!